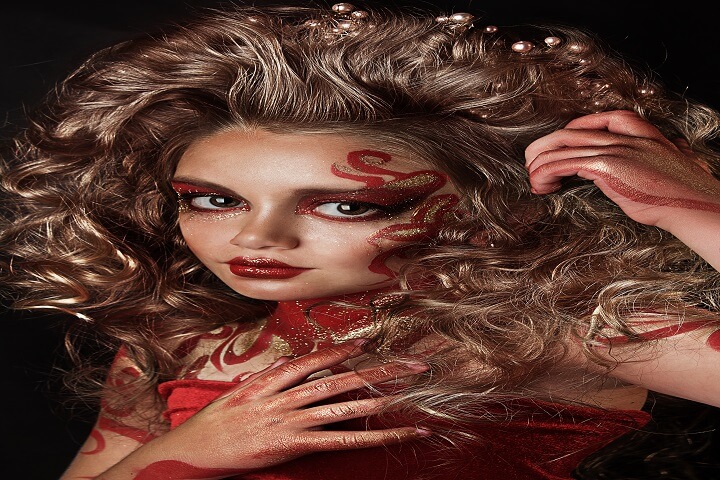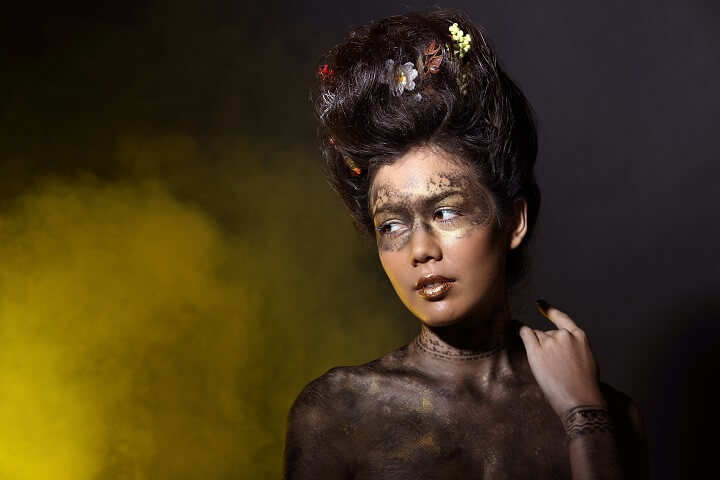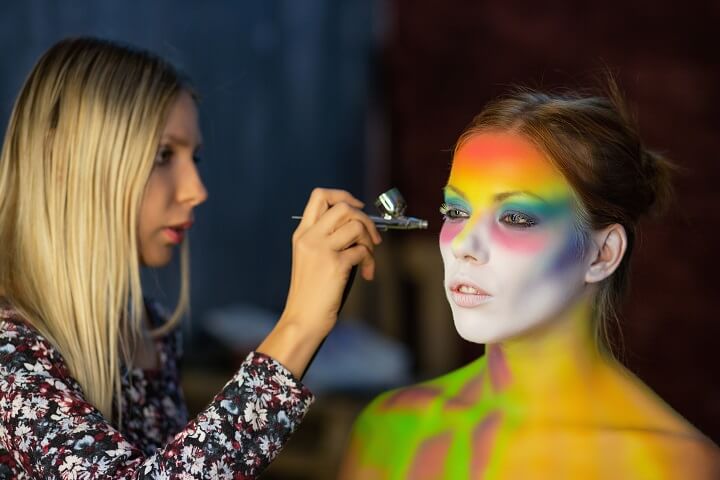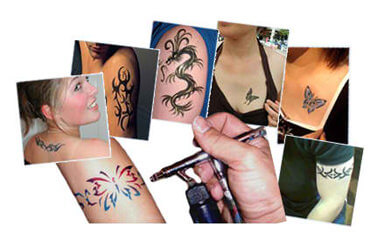 Airbrush Tattoos/ Glitter Effects
You provide the skin. We provide the (airbrush) tattoo!
Pick your stencil and start your sleeve. Our airbrush tattoos are works of art.
Let us add some color to your guests!
Don't worry… No commitment required (all tattoos wash away with a bit of rubbing alcohol).
What should I expect?
Our Airbrush Tattoo artist will bring the tatting kit (guns, paint, and rubbing alcohol) and over 75 stencils to choose from. Your guests will approach the station, pick their favorite stencil from our binder, and take a seat while the artist gets to work. There's no limit on the number of tatts that can be done per person, so let the ink flow!
Are the Airbrush Tattoos safe?
The tattoos are applied with air blown paint, so there are no needles involved! We only use FDA certified and approved paints.
How long does it take for the Airbrush Tattoo to dry?
Seconds. Literally. The tattoo will be dried before you leave the tattoo chair.
Where can I put a tattoo?
Anywhere but the face and no Privates(Don't even ask)
How long do the Airbrush Tattoos last?
They typically last anywhere between 5 and 7 days!
How can I remove the Airbrush Tattoo?
A tattoo can be removed completely at any point in time with a bit of rubbing alcohol!
Can I pick my stencils before the event?
Unfortunately you will not have the option to pick your stencils before your event, but with over 100 to choose from no one will go home tatt-less. Need to censor some of the stencils? No problem! Our team will arrive with plenty of time for you to check the stencil binder before the party gets going. If any are deemed inappropriate, they will be removed!
Can we order a custom stencil?
Yes, Absolutely!
I want to spice up the tattoos a bit… What can you do for me?
Book a Bling Artist to go along with your Airbrush Tattoo Artist! They'll add gems, sparkles, and glitter to finish your tattoos with flash!
How many tattoos can be airbrushed per hour?
It really depends. We have some very large tattoos that take a bit longer than the smaller ones. Still, we guarantee at least 30 – 40 tattoos per hour!
On the day of the event, what do I need to provide?
One 6' – 8' table, three chairs, and easy access to an electrical outlet!
Is there an hourly minimum?
We typically have a two hour minimum.